Description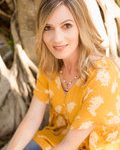 Come Away is an anointed collection of original music written by singer-songwriter Sarah Benedick.
With lyrics inspired by the scriptures, Sarah's music takes the listener on a journey of finding purpose, joy, and strength in God's presence.
Sarah is a worship leader, singer/songwriter and musician. She is a classically trained vocalist and keyboard/piano player. Sarah and her husband, Andy, live in Melbourne, Florida, and have three children.
Visit https://sarahbenedick.bandcamp.com/album/come-away to preview the music.
---