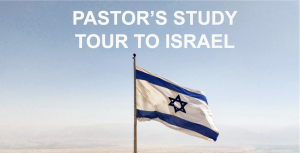 Dear Pastor,
We are happy to announce a wonderful and educational opportunity for you. This opportunity is available to pastors and 1 companion. A Family member or perhaps and co-worker. 
This unique study tour will bring you up close and personal to the land of the Bible, while introducing you to a wonderful Israel ministry, Bridges for Peace. You will be enriched with knowledge and experience that will broaden the scope of your understanding and ministry. 
We invite you to come with us and experience a guided tour of the land of the Bible while being immersed in ancient times, modern culture, and the sights and sounds of a vibrant nation. God's word is, of course, the centerpiece. you will learn more about the life-changing lessons of the Bible while being in the place where it actually occurred. There is nothing like it. 
New friendships will be formed among peers. The best sojourners in the land of the Bible are those who, with their fellow companions, will be learning the greater depths of our relationship to God, His people, and His Word. 
All of this and much more will encourage your soul and empower your ministry on an unforgettable journey to Israel.