Once you walk in Israel, you will never be the same
In the last days, the mountain of the Lord's house will be the highest of all—the most important place on earth.
It will be raised above the other hills, and people from all over the world will stream there to worship.
People from many nations will come and say, "Come, let us go up to the mountain of the Lord, to the house of Jacob's God.
There he will teach us his ways, and we will walk in his paths."
For the Lord's teaching will go out from Zion; his word will go out from Jerusalem.
Micah 4:1-2
WELCOME TO ISRAEL!
We are so excited to have you join us for a life-changing trip as we walk through Israel's past, present and future.
This is more than just a vacation – it's an opportunity to gain a deeper understanding of God's word and the historical roots of our faith.
We will visit the beautiful coasts of the Mediterranean, take a boat ride on the Sea of Galilee, visit authentic places from the Gospels, see the sites of the prophets and walk the streets of Jerusalem. Our trip will also include the Golan Heights, the Jordan River and the breathtaking Judean mountains.
There will be amazing moments of worship and prayer throughout our time together as we experience the Bible coming to life where the actual events took place.
Together we will open up the scriptures, laugh, learn, and inspire one another as we see the future of Israel unfold right before our eyes.
And of course, we will eat delicious food!
There is a saying in Israel, that you don't choose to go to Israel, you are invited, and that you are invited by the God of Israel.
He has invited YOU, and we are honored and excited to be a part of your journey!
Steve & Jayne Foss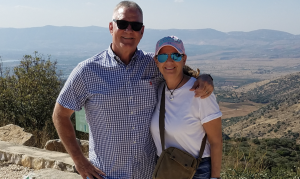 If you have any questions and would like to connect directly with Steve & Jayne:
email: goisrael2023@gmail.com
Call: 817-300-7777
*NOTE: Due to high demand of tours going to Israel, hotels are asking for reservations and deposits to be made as soon as possible. If you are interested, we encourage you to register and make your deposit to reserve your spot as soon as possible.