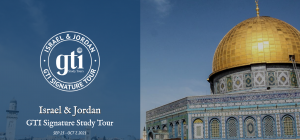 What to Expect
A GTI Signature Tour creates a unique context in which you can see Scripture in a new light while enjoying the rich joys of international travel with like-minded community.
Aside from going with your own church, a GTI Signature Tour is the best way to experience the land and lessons of the Bible!
Done right, a study tour can be relaxing and fun! Together with Randy Alonso, we'll explore the past and present of Israel & Jordan. Each day we'll unpack what we've learned in the context of biblical history as well as our daily faith.
In addition to visiting the ancient sites where Jesus lived and taught, we'll have the opportunity to dip our toes into the Sea of Galilee, the Dead Sea and the Jordan River, not to mention the unique cultural experiences and conversation and fellowship over delicious meals.




Led by Randy Alonso
Pastor, teacher, study tour leader
Randy Alonso has been a pastor for over 30 years and has been married to his wife D'anae for 37 years. Randy first traveled to Israel in 2001 and became an advocate of the land of Israel and the Jewish people. He works with Bridges for Peace, a Jerusalem-based Christian ministry that builds relationships with Jews in Israel and around the globe by serving them unconditionally. He currently is the Executive Pastor of Central Life Church, Melbourne Florida. He holds a Doctorate of Divinity from Masters International University of Divinity and is a graduate of Bridges for Peace Institute of Israel. Randy is also a Certified teacher, coach and speaker for the John Maxwell Team.
View Itinerary, Cost Details, and to Register