In the Footsteps of Jesus TOUR En Los Pasos de Jesus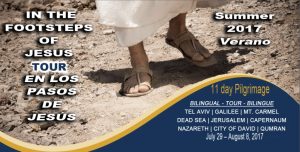 Summer 2017 Verano
11 day Pilgrimage
BILINGUAL – TOUR – BILINGUE
Tel Aviv | Galilee | Mt. Carmel | Dead Sea | Jerusalem | Capernaum | Nazareth | City of David | Qumran
July 29 – August 8, 2017  |  11 days (2 travel – 9 Tour)
Coordinators:
Pastor John David Delgado, Regional Representative for Bridges for Peace, Texas – Hispanic Task Force Coordinator
David is founding pastor of Iglesia Comunitaria Biblica, a Spanish speaking church in Austin, Texas.  He earned a Master's Degree in Transformational Leadership from Bethel Seminary. He is a graduate of the BFP Institute of Israel Studies and leads Spanish-speaking tours to Israel. John David and his wife Patricia are passionate about teaching Hispanic Christians the Hebraic roots of their faith and about building strong relationships between Christians and Jews. They and their son live in Hutto, TX.
Bishop Ebony Kirkland with the World Wide Association of Small Churches
Dr. Kirkland has pioneered the "Worldwide Association of Small Churches". The mission of the organization is the empowerment, mentorship and training for small churches (especially in poverty regions of the world).  In addition, the organization seeks to collaborate and bring forth peace and understanding among the various interfaith denominations, and she is an affiliate advisor to the UNESCO Center for Peace New York State.  She received a Master of Divinity (M. Div) from U.T.S.  Dr. Kirkland completed her Doctorate of Ministry (D. Min) degree from U. T. S.   
Tour Cost:
$3,998 per person (shared occupancy)
$250 per person deposit
Included:
9 nights Superior Accommodation
Daily Breakfast, Lunch, and Dinner
Private deluxe A/C transportation
English Tour Guide – Spanish Translation
Boat ride on the Sea of Galilee
Visit the old town of Jerusalem
Experience the Dead Sea, Masada and Qumran
Service Project in the land of Israel
Follow the stations of the cross Via Dolorosa – and MORE!!!
International airfare included – Newark NJ
Information:
TOUR FLYER (in English & Spanish)
Contact Daphne Lacy | daphne@travelbyginny.com | Tel (321) 632-5610 | FAX (321) 632-5878