~ PLEASE CHECK BACK FOR NEW TRAVEL DATES…TO BE ANNOUNCED SOON ~
1st Ever Bridges for Peace CHAI Tour…hosted by Rev. Victoria Marmolejo and Lindsay Ingalls
Experience the restored Land of Israel. Touch the ancient places and walk the old paths as we pray through the Land. Walk where Jesus walked. Stand where the Tabernacle stood in Shiloh. Sift the dust and stones of the City of David with archaeologists. Meet the people of Israel. See the work of Bridges for Peace. Isaiah 27:6 says Jacob will take root, and Israel will bud and blossom. Come with us to pray and experience the fulfillment of this prophecy and many others firsthand.
Dates: April 24 – May 5, 2020

Your Tour Hosts and Guide:

Rev. Victoria Marmolejo, Bridges for Peace Field and Prayer Manager

Victoria is ordained through the International Ministerial Fellowship. She has served with Bridges for Peace for 11 + years in varying capacities. She and Jack Renick (CHAI-Man) currently manage the National Prayer & Representative network with over 1000 members in number.
This will be Victoria's 8th trip to Israel!  Victoria wrote the Iron Dome prayer along with creating My Prayer Book (ספר של' התפ'לה). She also initiated A Woman's Prayer Weekend across the U.S. connecting women to Israel by ministering to them through worship, rest, and teachings.
Victoria is a military veteran, has two sons, one daughter, 4 grandsons, and 2 granddaughters.

Lindsay Ingalls, Bridges for Peace Representative
This will be Lindsay's fourth trip to Israel since 2007. On her second trip, she worked with archaeologists at the Temple Mount Sifting Site for two weeks. She has also visited Jordan and Egypt. Lindsay is a Representative for Bridges for Peace, attended Israel Institute in 2017, and has led a very active CHAI prayer group for five years. She has spoken to churches, Bible study groups, and secular groups about the Jewish roots of our Christian faith, standing with Israel and Bridges for Peace.
Lindsay is a retired teacher and has a son and daughter-in-law and two granddaughters.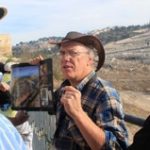 Allan Rabinowitz, Israel Tour Guide
Our tour guide, Allan Rabinowitz, has been an Israeli licensed tour guide and tour educator for more than 30 years. He is also a journalist, travel writer, and novelist. Allan and his family live in Jerusalem. He comes very highly recommended and has excellent reviews.
Tour Cost: $2888 (Land package only; single supplement $1105)
A $100 non-refundable registration payment is due by Wednesday, February 5, 2020
CONTACT FOR MORE INFO:
Victoria Boeseman, c. 321-266-1451, wk. 800-566-1998, vmarmolejo@bfpusa.org
Lindsay Ingalls, c. 252-714-7533, lingalls@bfpusa.org
TO REGISTER NOW!
Or Gabriel Rosen at (203) 814-3509 for Registration, Flights & Travel Insurance
Tour includes:      
10 nights accommodations (double occupancy)
Full buffet breakfast and dinner daily while in Israel
1 group sack lunch will be included for sifting site
Knowledgeable English-speaking guides
Deluxe motor coaches, with A/C and professional drivers
Bible Studies and prayer daily on location
Entrance fees into sites plus taxes
All tips included for meals, waitstaff, bus driver & guide
Tour Does Not Include:
Airfare to and from Tel Aviv
Optional travel insurance plan (Highly recommended).
Additional fuel charges if imposed by the airline at the time of flight
Miscellaneous fees, items of a personal nature such as passports, laundry, beverages, baggage fees.
Any extra help needed such as an unscheduled trip to or from the hotel, taxis
=> To the Bridges for Peace Field Network Team: We welcome you to view a brief tour invitation video given by Jack Renick, BFP-USA Prayer Network Leader.