Event Phone: (407) 930-8169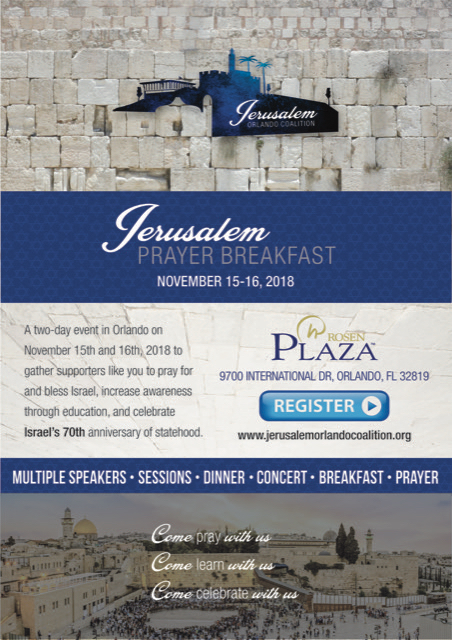 Jerusalem Orlando Prayer Breakfast
Fifty years ago, following the Six-Day War and after 19 years of division, Jerusalem was reunified. Reunification under Israeli sovereignty ended the religious discrimination and desecration carried out under Jordanian control. Only under Israeli sovereignty have Jerusalem and its holy sites been open to all people. Historically and politically, spiritually and culturally, Jerusalem represents the heart and soul of the Jewish people. Jerusalem has been attacked 52 times, captured and recaptured 44 times, besieged 23 times and destroyed twice over the course of 3,000 years.
We live in perilous times as the nations are again seeking to solve their problems by accusing the Jewish people. We have seen the latest UNESCO resolution that not only denied the Temple Mount's Jewish ties but also portrayed the Western Wall as a Muslim holy site. Twenty-four nations voted in favour of the motion, 26 abstained, and only six countries had the boldness to stand against such a shameful rewriting of history. Pray for the peace and wholeness of Jerusalem – may they prosper that love you!
For a message from Blake Lorenz click on image below.